Five For Friday (+1) 7/20/12
1.  Medical Stuff:
1 Day of PT.
3 Days of Home Rehab.
That is all!
2.  My friend Susan who also has POTS, sent me this beautiful "spoonie" bracelet.  It was such an awesome surprise to receive a package and then find this beautiful bracelet inside.  Thanks again, Susan. It means so much, and every time I look at my wrist, I can't help but smile and think of you when I see my extra spoon.
If you have not already read it, here's the incredible "Spoon Theory," which in my opinion describes so well, what life is like living with a chronic illness(es).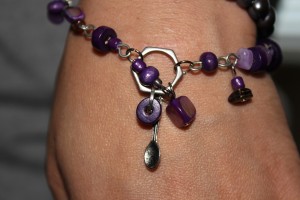 3.  Our friends, Meghan and Sebastian let us know last Saturday that one of our very favorite bands, Steppin' In It, was playing near their house that night.  It was such crazy timing, because I had just looked on their website the night before and was complaining to Brad that they had no outdoors tour dates listed for the rest of the summer.  So when we found out they were playing that night, I sucked up the fact that I still could not move from my Dr. Lavallee workout and we headed to Meghan and Sebastian's place.  Meghan and Sebastian got a babysitter, and we were at the Brighton Festival within a few hours.  So, SO much fun.
4.  On Wednesday, 6 of us helped pack the Senate Room to oppose the SB's 1115-1118.  The Senate committee room was packed.  It was such an awesome sight.  The goal was to keep the Senator's from voting and it worked!  Now, nothing will happen until September.   I was not allowed to speak because I had already testified in front of this same committee in May, but I was told that if these bills go to the House, I will be asked to testify again.  Fingers are still crossed for a "NO" vote!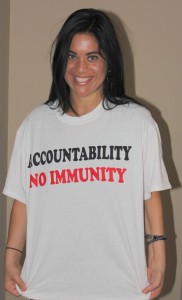 5.  One of my former coaches, John Geddert, was named the head coach of the US Olympic Women's Gymnastics Team a couple of days ago, which is definitely a well deserved honor.  I love the Olympics, and knowing that John, Kathryn, and Jordyn (Wieber) are there representing the US, makes it that much sweeter. Go USA!
+1.  My heart goes out to all of those affected by the tragedy in Colorado today.  I pray for the families that have lost, and for the injured. I pray that they all can heal physically, mentally, and spiritually.
Tags: Friends, Gymnastics, Music, Senate, Spoon Theory, Surprises, Tragedy
Trackback from your site.