Five For Friday 10/22/11 +1
1.  Medical Stuff:
1 Day of PT.
2 Days of Home Rehab.
I had my monthly appointment with Larry to assess how I am doing, and for gentle manipulation work on my ribs, neck, and jaw.  When I told him about my physical therapy dilemma, he basically responded in an, as diplomatic way as he could, with "over my dead body," and "your doctor is the one who decides that."  So, his plan for me is to take a physical therapy break over Christmas break to see how I do,when I am not teaching.  His bottom line was, "We are not messing with school and PT right now."
2.  On Saturday, Brad and I watched MSU whoop up on U of M.
3.  Okay, a little more about the win, and then I'll be quiet about it.  When I went to church on Sunday, Father Joe started off the homily with this: "My niece who goes to U of M texted me during the game and said, 'Uncle Joe, you need to get the trash off the field.'  So I texted back with, that's what we are trying to do."
Love it.
4.  A lot of people have recently asked if I know Jordyn Wieber.  If you don't know who she is, I am sure you will by next year's Olympics in London.  She recently won the World gymnastics title in Tokyo.  I do not know her personally, but she is from the gym where my sister, my brother, and I trained for years.  Once you are a part of the Twistars family, you are a member for life.
Here is a Montage of the Worlds Gymnastics Team Finals, that includes the gymnasts (including Jordyn) that made up the gold medal team.  I love the message in this montage; mainly because the 14 years of competitive gymnastics that I was lucky to experience, instilled in me a lot of these values I live by today.  I am so proud of my former coaches, John and Kathryn Geddert, Jordyn, and to be a Twistars alum.
http://www.youtube.com/watch?v=O3e4VLme7K0
5.   Well, I turned 30 on Thursday.  From the cards made by my students, to the donuts brought in by a parent, to the gifts, the calls, the texts, the FB messages, the emails, the cards, the zebra cupcakes, the birthday songs, the Skype's, the hugs, the crown, the flowers, and the surprises, I definitely felt loved.  Thank you to everyone who made it special. I love you all.  xoxo
+1.  Last night, my friend Theresa organized a girls night.  We went to Polka Dots with some of the gals from school and made bracelets.  When I got there, I saw it was a zebra themed party with zebra goody bags, and more.  The girls sang to me, and presented me with a very generous gift to put towards that camera I have been dreaming of.  I sure am blessed.  It was such a fun night.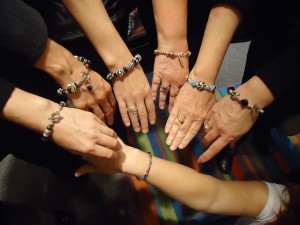 Tags: Birthdays, Friends, Gymnastics, Michigan State
Trackback from your site.