1.  Medical Stuff:
2 Days of Home Rehab.
1 very POTSy day at PT.  I had to cut my cardio short by 10 minutes so I ended up adding it on to today's treadmill workout.
I had an OMM appointment.  My doctor worked from my pelvis all the way up to my jaw.  It was my jaw that was noticeably hot to the touch and pretty inflamed.  It is a strange experience to have fingers inside of my mouth, trying to get my jaw muscles to release.
2.  My classroom microwave, classroom CD player, and hair dryer all decided to die this week.  I sure hope it is true that things come in 3's.
3.  I got this picture from my Mother-in-Law.  It makes me miss my nieces…and summer weather.  It is freezing today!
4.  It's that time again.  I decided to take a break from changing out my summer clothes for my fall clothes to blog.  This job always takes me forever.  I think it's time I donate some of these…Especially since the other 3/4's of the piles are all over my bedroom floor.  Can you spy a zebra tank top in that mess?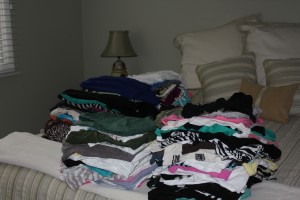 5. You may have noticed the WEGO Health Nomination badge on my site.  I received a congratulatory email this week about being nominated, and was asked if I would help promote WEGO Health in a variety of ways including displaying the badge on my site.  You can nominate your favorite 2012 WEGO Health Activist until December 31st by going here.  There are so many amazing people out there sharing their stories, bringing awareness to many different health topics, and giving their all to their communities.  This is a wonderful chance to say "thanks."
Tags: Awareness, Family, Home, Osteopathic Manipulative Medicine (OMM), Random, Weather, WEGO Health
Trackback from your site.