1.  Medical Stuff:  2 days of PT this week, had T-9 and T-10 nerve block injections, saw Dr. Rosen, scheduled with Dr. Lavallee and the POTS cardiologist in South Bend.  

2.  Ms. Margaret (the best assistant teacher ever) came to visit and brought me Glee love songs! We both share a love for Glee.


3.  Had one of those days on Wednesday that just kept getting better and better.  Everywhere I turned, things fell into place and I found out more great news.  Gotta love those kind of days.


4.  After going to lunch at Champps with Mom, Jake, Cecilia, and Kristen, I put Cecilia in the sink and we played with paper cups for over an hour.  She loved the mirror and we had such great one-on-one bonding time. I already miss her so much.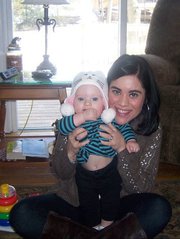 The only picture I got of me and my lovey.
5.  New Year's Eve!  We are headed to the Gooley's house in Grand Ledge for their annual NYE party.  Should be a blast like always.  Can't wait to see what I am gifted with during the famous white elephant exchange. 
Our buttered bread and money are all set to ring in the New Year.  This is a tradition from my Dad's upbringing, that has been carried forward with us.  My Dad has always taught us that on every New Year's Eve you leave buttered bread on your table, and you leave money outside all night long. The buttered bread is to ensure that in the new year, we will always have enough food to eat, and the money is to ensure that in the new year, we will always have enough money to live our lives.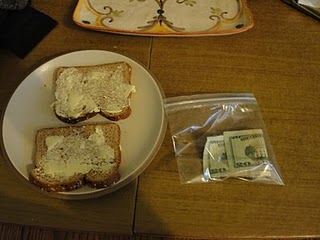 As many blessings as 2010 has brought, I'm not gonna lie~I am ready to embrace the "newness" of 2011, and see what it has in store for us! 


Happy New Year everyone!  May your 2011 be filled with love, happiness, and health!
Tags: Appointments, Cecilia, Family, Friends, Nerve Blocks, Random, Teaching, Traditions
Trackback from your site.