1 Day of PT~I did a new circuit that had me rotating through light treadmill work, light elliptical work, Body Gym squats, and toe raises…I also did arm and back strengthening, balance exercises and my PELVIC CLOCKS!

I had prolo round 4 on Monday on my neck, upper back, mid back, and ribs.  I go back May 31st for round 5.

On Wednesday I went to Toledo to see Dr. Grubb's NP, Beverly, for POTS.  I am still working on this (long) blog post, but I will say that my appointment did not disappoint.  I left with a much better understanding of why my body is doing what it is doing, and hopefully ways to help better manage my POTS. 

I filled a prescription for Midodrine for POTS.  I don't start it for 2 more weeks though.

My open toe compression stockings just came in the mail!  As soon as I try them on, I will grace you all with a picture. I better make sure my toes are pretty first!
2.  I got a new ZEBRA mug!  It even has the cutest little zebra inside the mug.  It's from World Market, if you all want to rush out and get yourself one!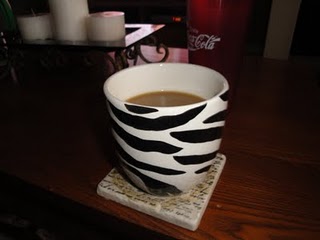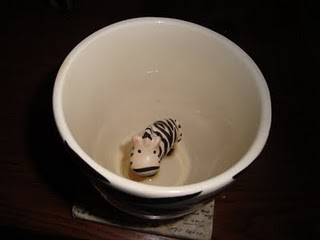 3.  Tuesday, I helped my Mom host a jewelry party.  I didn't move much from the sitting position, since it was the day after prolo, but I would say that the party was a success.  It was nice to see people I haven't seen in a while; especially school friends.  I still need to do my jewelry shopping since I gabbed the whole party.  We are closing the party on Monday.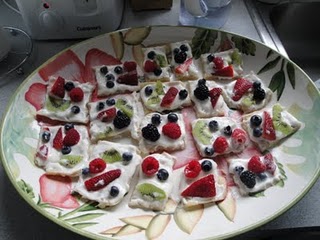 I even made food for the party.  I was in charge of desserts so I made dream bars and fruit pizza.  Here's the fruit pizza, Allie.  Thanks for "holding my hand" while I made it by answering 1,456 questions by phone or text from Maryland while you were trying to work. xoxo 
4.  On Monday our front yard looked like this: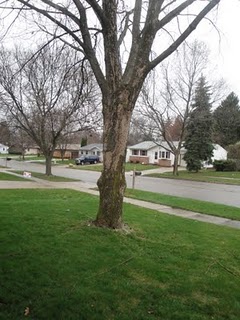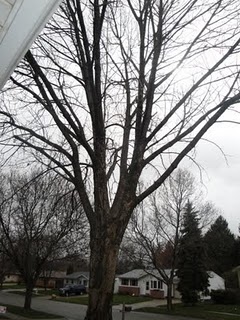 On Tuesday our front yard looked like this:?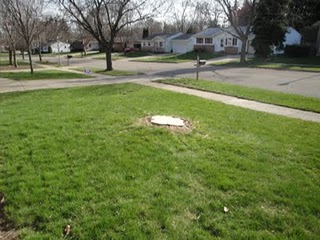 We have been needing to have this poor tree cut down for some time.  When the tree company came to look at it, they said it was crucial that we have it cut down ASAP, since it was so weak.  Therefore, we had them come the next day and they worked all day in the rain.  This made me suck up the fact that the extremely loud noise kept me from taking my usual much needed "day after prolo" nap.  They will be coming back soon to grind the stump.
I know it is safer for the tree to be cut down, but I will miss the shade it provided! Our house is gonna be quite a bit warmer this summer!
5.  On Sunday, Brad and I went to our friend's, Todd and Brandi's house, to celebrate their daughter Aubrey's 5th birthday.  It was hilarious watching the 5 year old girls play dress up, and chat like adults.  I love 5 year olds!  Thank you Todd and Brandi for including us!
Allie gets home tonight for Easter weekend!  I miss you Kritt, Jake, Cece baby, and Andy! Happy Easter!
Tags: Compression Stockings, Dr. Grubb, Family, Food, Friends, Home Improvements, Medicine, Physical Therapy, Prolotherapy, Zebra
Trackback from your site.