"Learning is a Gift. Even When Pain is your Teacher."
Thursday night, Brad and I headed back to Mishawaka since my prolotherapy appointment was at 8:15 Friday morning. After rescheduling three times because of weather and schedule conflicts, I was just desperate to get in a treatment when I could.
I saw Dr. Cantieri right away. We chatted about my new tattoo, decided it was a "needle week" for me, and I told him the tattoo pain was a piece of cake compared to prolo pain. As I went on to tell him about the last few months, I kept referring to my neck, jaw, and shoulder-blade areas as my most painful areas. I also told him I felt I had gone about 3 weeks too long in between treatments. Dr. Cantieri asked if I was doing isometric neck exercises as part of my home rehab program. After I told him no, he went and got a towel and we went through a set so I would know what to do once I returned home. I was pretty excited to get more neck exercises, since I often feel like if I can keep my neck and shoulder-blade muscles firing, then I get fewer headaches and my head doesn't feel like it's going to fall off (or in other words I won't need my hand or a neck brace to hold my head up).
After the neck exercises, Dr. Cantieri started with his own gentle OMM; especially in my lower rib area. Then it was time to map out the areas I needed prolo'd, followed by the actual injections. Because it was a 8:15 appointment, I had not eaten breakfast before. That was a mistake. I ended up with a "rainbows and unicorns" type of lidocaine buzz and I got really shaky.  However, I will say that drinking a little Juicy Juice with my feet elevated went a long way for making me feel like I could sit up without passing out.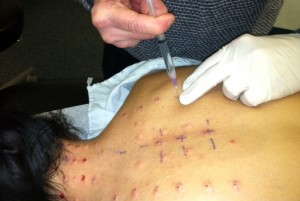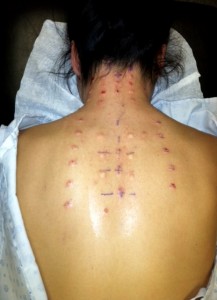 The only pictures I didn't get were jaw injection pictures when I was laying on my back, with the injections going into my cheeks. Those made for a quieter Katie the rest of the day, which is really, really strange for everyone.
Anyways, I felt like I had to have more injections than the last few times because I went too long in between. My body was definitely craving this stabilizing "tune-up." Next time, I know I will need to get back to Mishawaka sooner.
Overall, it was a pretty uneventful trip. We were home by noon. I was on my heating pad by 12:15. I only puked a couple of times. Today, I have still been taking it pretty slow but by Monday I should be as good as new.
Why do I do it? Because I have dodged major surgeries and heavy pain meds so far.
That to me is worth the money, worth the travel, worth the pain.
To read more about prolotherapy, check this link out: http://correctivecare.com/prolo.html
Tags: Appointments, Dr. Cantieri, Ehlers-Danlos, Mishawaka, Prolotherapy
Trackback from your site.