The Queen Looks Like a Peep
Yes, I said that.  But I can't take full credit after Allie said I looked like a peep on Easter.  But if it were between the Queen and I and our "peepness," the Queen would have taken the cake for sure. 
So as I have already mentioned, we had a royal wedding sleepover, full of English Tea, Bangers, English Muffins, Strawberry Jam, and big, beautiful HATS!  The hats in themselves warrant their own blog post.  When it was decided that this sleepover was going to happen, my Aunt Laurie and Aunt Mada went to work on designing our royal masterpieces.  As you will see, each hat is a one of a kind.
After going to bed at 1:00 after the concert, my cousin, Jenny woke me up at 6:00.  Jenny, Aunt Mada, and Aunt Laurie were already up, dressed in their hats, and ready to see William and Kate say "I do."  After a minute of prying my eyes open, I was ready too.  We oooh'd and ahhh'd, giggled, and spouted off our many random comments.  Basically we did what girls do when they watch a prince marry his princess.
As I watched, I couldn't help but think a "Harry/Pippa" romance would be even more intriguing to follow.  And I absolutely LOVED Kate's dress, and the spectacle of it all. 
So without further ado, here is the unveiling of OUR majestic hats. 
Sidenote: I realize I don't look as scary when I wake up when I have a gigantic hat (with BIRDS!) on my head.  I think I may have to wear one more often.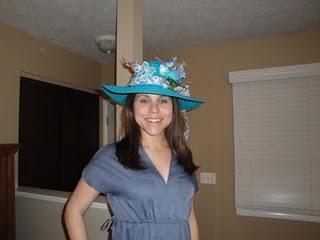 Lady Jen in "Spring Symphony"
Lady Katie in "Purple Majesty"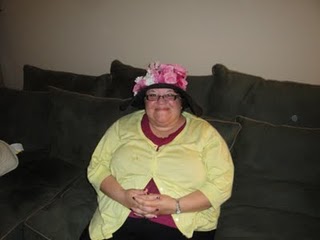 Lady Laurie in "Pink Wings of Love"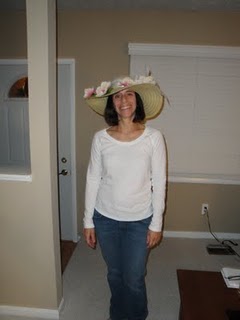 Lady Madalena in "Random "S%#t Glued on a Hat"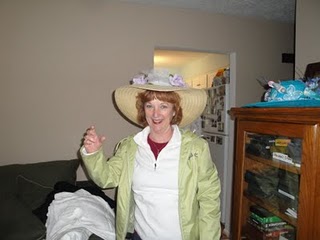 "Mum" stopped by on her way to school to try on "Purple Majesty"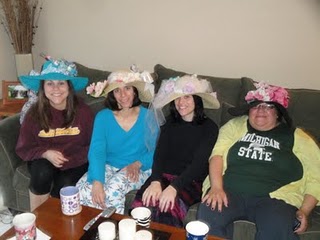 Have you ever seen a more regal picture?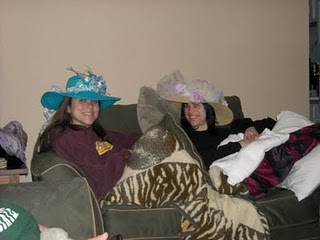 Lady Jen and Lady Katie snuggling up at 6 am
Trackback from your site.